The following tool allows you to carry out a pairwise comparison online. Enter the elements or criteria you want to compare in the field below, separated by commas. An excel template for the pairwise comparison can be downloaded at the end of this page.
Pairwise comparison example
The pairwise comparison can be used very well to weight the criteria for a benefit analysis. For our example we suppose an assembly is to be designed and there are several designs from which a design must be selected for further elaboration.
In order to be able to make this decision, a benefit analysis is prepared. The criteria for evaluation are being developed and must now be weighted according to their importance.
Conceivable criteria are:
Customer benefits
Operational safety
Maintenance expenditure
Innovation character
Feasibility
Costs
These criteria are now weighted depending on which strategy is being pursued during development and construction. To do this, they are entered in the input field of the online tool for pairwise comparison.

After clicking the "Compare" button, the list of the individual comparisons appears. By moving the slider you can now determine which criterion is more important in each direct comparison.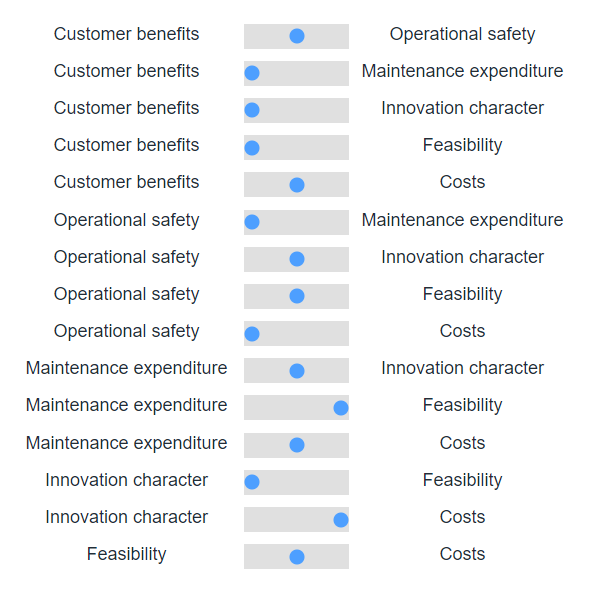 While the sliders are being set, a ranking list appears below, in which the weighting of the individual criteria is displayed.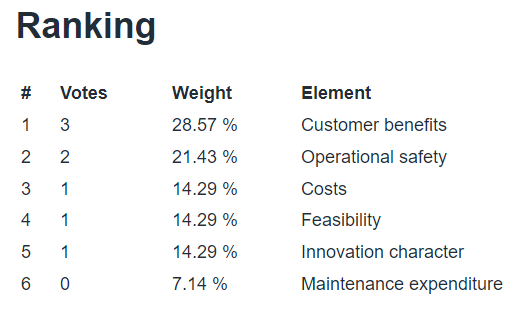 The pairwise comparison is now complete!
Regarding the math
This tool awards two point to to the more important criteria in the individual comparison. In the basic position, when all sliders are in the middle position, all criteria are equally weighted (1 point). Less important criteria get zero points in the direct comparison.
Here we have some more tools.
The pairwise comparison Excel template
You can use the following excel template for the same calculation as shown with this online tool. It is prepared for a maximum count of 10 criteria.
Please support this site by registering for our newsletter - we will send you the link for the Excel template in exchange.
If you don't want to support this site, you can just download it here.